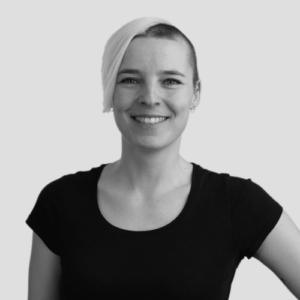 Dr. Christina Jacker-Hundt
Head of Marketing Project Expat GmbH
C wie Content, Campaigns, Concepts & Creation – oder auch einfach: C wie Chrissy ©
Die studierte Werbepsychologin (M.A) und Medienmanagerin (B.A.) lebt für kreative Kampagnen und Marken. Chrissy profitiert von vielen Jahren Erfahrung in den Bereichen nationales und internationales Marketing, Social-Media- und Influencer-Kampagnen sowie Markenrelaunches. Aktuell ist die leidenschaftliche Expertin Head of Marketing bei Project Expat. Durch ihren Fokus auf Brand Marketing und Markenstrategie zeigt sie praxisnah und Schritt für Schritt wie man Buyer Personas für Unternehmen erstellt.
Ihre Leidenschaft für Brands konnte sie bei der bekannten Fitnessmarke BodyChange einbringen, wo sie für 360°-Marken-, Produkt und Influencer-Kampagnen und zuständig war. Bei der Münchner Agentur EPHNY betreute Chrissy Top-Kunden und agenturübergreifende Markenkampagnen, Influencer und den Bereich Content-Kreation. Ihre Leidenschaft und ihr Wissen für ihren Beruf teilt sie zudem auch gerne: An der Hochschule für angewandtes Management München ist Christina Dozentin für Werbepsychologie. Außerdem stellt sie als stellvertretende Vorsitzende im Ausbildungsberuf E-Commerce an der IHK München den Branchennachwuchs sicher.
Als Bloggerin und YouTuberin über Werbepsychologie und Online Marketing hält sie nicht nur andere auf dem Laufenden, sondern auch sich selbst fit.
Durch ihre Promotion (PhD) und Doktorarbeit mit dem Titel "The Effect Of Erotic Messages In The Information Management In Advertising In The Context Of The Feminism Of Generation Z" gilt sie als Expertin im Gen Z Marketing.
Dr. Christina Jacker-Hundt – Unsere Referentin für Personas
Vita
2022 – heute: Referentin bei der 121WATT GmbH
2021 – heute: Head of Marketing bei Project Expat

2020 – heute: IHK Prüferin für den Ausbildungsberuf Kauffrau/-mann im E-Commerce bei IHK für München und Oberbayern
2018 – heute Bloggerin/Vloggerin & Speakerin bei Chrissy's Marketing Corner
2017 – heute: Dozentin an der Hochschule für angewandtes Management
2019 -2021: Senior Social Media Managerin bei EPHNY – Social Media Marketing
2018 – 2019: Digital Marketing Managerin bei BFV Service GmbH
2016 – 2018: Cooperation & Campaign Managerin bei Social Media Interactive GmbH (BodyChange)
2014 – 2015: Werkstudentin Sponsoring & Events bei FC Bayern München
2012 – 2013: Werkstudentin Marketing bei Neopost GmbH (heute Quadient)
Projekte
Gründerin des Werbepsychologie und Online Marketing Blogs Chrissy's Marketing Corner
Stellv. Vorsitzende & Prüferin im Ausbildungsberuf Kaufmann/-frau im E-Commerce an der IHK München-Oberbayern
Promotion im Bereich "Social Communications & Information Sciences" an der University of Library Studies and Information Technologies (Sofia und Wien)
Schwerpunkte
360° Kampagnenmanagement & -konzeption
Werbepsychologie
Persona- und Markenbildung
Brand Communication
Content Marketing
Social Media
Konferenzen
Speakerin& Trainerin Social Media Wake Up
Speakerin&Trainerin Siemens Social Media Boot Camp